USTC Scientists Realize High-Fidelity Optical OAM Communication Under Highly Scattering Environment

[2019-03-18]

The orbital angular momentum (OAM) of light has been taken as a promising degree of freedom in multiplexing data. Because the OAM of light could offer the unlimited channels with excellent orthogonality for data transmission, the multiplexing of OAM channels has been widely applied in classical and quantum communications. However, optical scattering, caused by micro-particles in the atmosphere or by energy transfer between channels, reduces the channel quality in free-space communication. When a

USTC Dragon Boat Team Wins the First Prize in Anhui University Dragon Boat Open

[2019-03-15]

the 2019 Anhui University Dragon Boat Open Tournament is held on March 7 and 8 at the Zipeng Scenic Spots, Hefei, Anhui. dragon boat team of University of Science and Technology of China(USTC) won the championship of 100 meters' straight race and took the first prize in men's 500 and 200 meters' straight race in the third place.

USTC firstly realizes self-testing of Bell state measurements

[2019-03-15]

The CAS key lab of quantum information makes an important progress in the study of quantum entanglement networks: Li Chuan-Feng, Chen Geng and their colleagues have realized the first experimental study of self-testing of Bell state measurements, by linking it to the non-locality of entangled states. The research results were published on March 8th in Physical Review Letters.

LrNK Cells Can Maintain Liver Immune Tolerance

[2019-03-11]

USTC researchers discovered that liver-resident NK cells can negatively regulate the antiviral immune response of T cells and its mechanisms, which was published in Immunity.

[Xinhua]Chinese Scientists Develop Smog-Filtering "Window"

[2019-02-25]

Scientists from University of Science and Technology of China have created a new type of smart window screen to capture smog, lowering the density of harmful fine particulate matter PM 2.5 indoors to a safe level within a minute.

[China Daily]Chinese Quantum Physics Team Honored

[2019-02-15]

Newcomb Cleveland Prize, the oldest award of the American Association for the Advancement of Science, was awarded for research done by scientists in China for the first time in its 96-year history.

Aerosol-Assisted Biosynthesis Strategy Enables Functional Bulk Nanocomposites

[2019-01-27]

Researchers led by Professor YU Shu-Hong from USTC successfully developed a general and scalable biosynthesis strategy, which involves simultaneous growth of cellulose nanofibrils through microbial fermentation and co-deposition of various kinds of nanoscale building blocks through aerosol feeding on solid culture substrates.

per page 15 records total 582 records
PageNumber 1/39 jumpto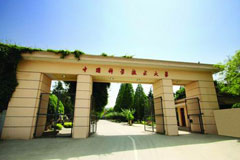 On May 11, the Nature Publishing Group released Nature Publishing Index 2010 China, remarking "a dramatic rise in the quality of research being published by China". University of Science and Technology of China is ranked 3rd of TOP 10 Institutions in Index 2010 China.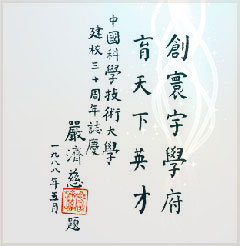 These articles came from News Center of USTC.